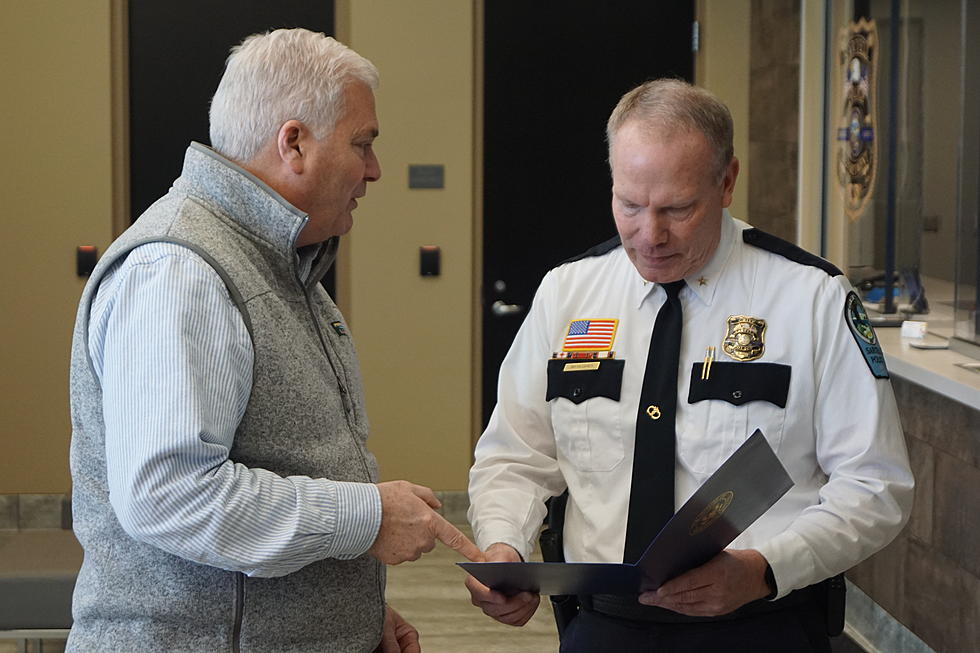 Congressman Emmer Presents Congressional Record to Chief Hughes
(Photo: Alex Svejkovsky, WJON)
SARTELL (WJON News) -- Congressman Tom Emmer spent some time in Sartell Friday recognizing the career of police chief Jim Hughes.
Emmer presented Hughes with a Congressional Record statement recognizing his service ahead of his retirement.
After more than 30 years in Sartell, Jim has seen the city grow from a few thousand to nearly 20,000 residents. In that time, he has worked to build trust between the department and the Sartell community, which has resulted in decreased crime and increased confidence in law enforcement.
The Congressional Record is the official account of the proceedings of the United States Congress. Emmer's statement in Chief Hughes's honor will be a permanent part of this record.
Hughes is retiring at the end of this month after, following a 32-year career in law enforcement.
Earlier this month, the city council approved the hiring of Brandon Silgjord to become the next Sartell police chief.
He's expected to begin sometime in June.
---
READ RELATED ARTICLES
8 Apps Minnesota Enjoys More than Watching the Super Bowl
Apps or food we enjoy in Minnesota when watching football and more specifically during the Super Bowl