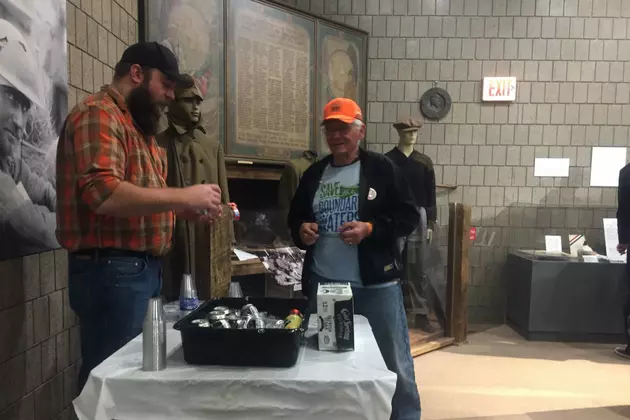 Stearns Museum Showcases Cold Spring Beer in One Day Exhibit
e Justin LaBounty WJON
ST. CLOUD -- The Stearns County History Museum and Third Street Brewing Company teamed-up Saturday to showcase some of the rich history of brewing beer in Cold Spring.
The one-day event happened Saturday afternoon at The Stearns History Museum.
From the moment you walk the front doors, you could see classic signs, cans and other memorabilia from 150 years of brewing in Cold Spring.
Eric Cheever is the Collections/Exhibits Curator at the Museum. He says they have items from every era of the brewery, including beverages made during Prohibition.
"I am kind of an advertising geek, so I love all the old signs from the brewery and old bottles. We even have root beer bottles that they got into during Prohibition."
He also says that learning about the Cold Spring Brewery gives people a chance to find out more about an integral part of the community and its history.
"I think what is striking to me is when I started putting all this together, I learned about the (brewery) ties to the community and vice versa. Nearly every small town back in the day had its own brewery and in some ways it was the face of the community. These breweries had their own baseball teams, choirs and bowling teams. It is just so neat looking through all these old artifacts and seeing their local ties."
Not only did people get a chance to see beer history, they were also able to taste it as well.
Third Street Brewing Brewmaster Karl Schmitz says the brewery recently released a new series of beers called the "Historic Craft Beer Series." He handed-out samples Saturday.
"You look at the Brewers Tears recipe which is from 1910. And it is something you can easily envision making now even in the climate of craft beer. It really is interesting that they (in 1910) were thinking about the same things we are thinking about."
Schmitz says he even ran into someone at the event who can remember working at the brewery in 1969.
Though the brewery has changed a lot in the last 150 years, The Stearns History Museum and Third Street Brewery are doing a lot to keep the long, rich history of brewing in central Minnesota alive.