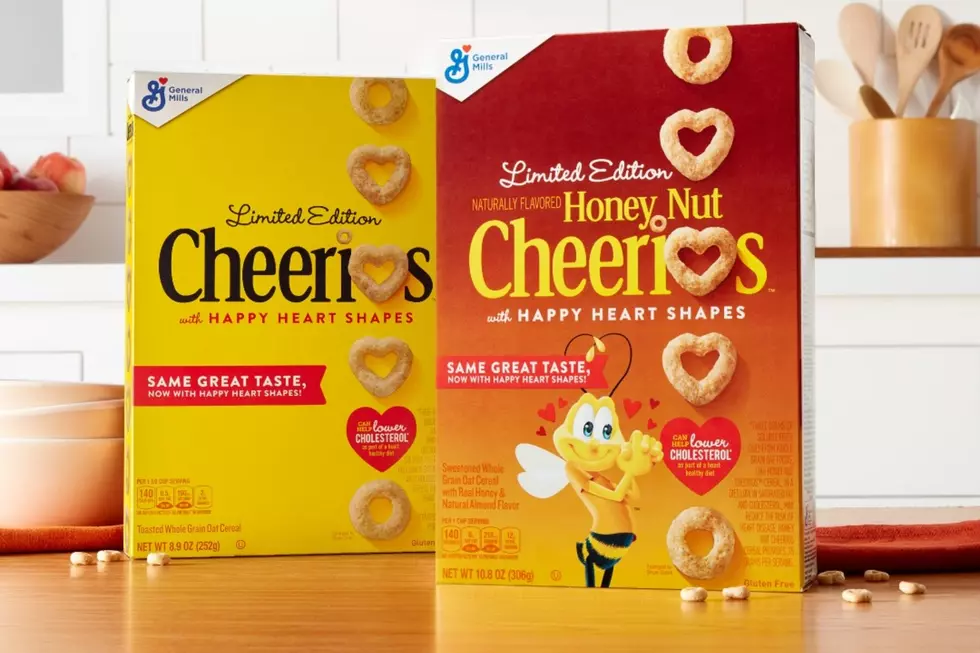 MN-based General Mills Announces Limited Heart-shaped Cheerios
Cheerios via Facebook
Just in time for the new year, General Mills announced Wednesday that they'll be releasing limited edition boxes of Cheerios in heart shapes.
In a press release, General Mills reveals that it has changed the shape of America's favorite cereal for the first time ever to create awareness of and promote good heart health.
"Honey Nut Cheerios is on a mission to inspire happy hearts," said Liz Mascolo, vice president, marketing for Cheerios. "We want to remind people that living a heart-healthy lifestyle can be joyful, easy and delicious, and Honey Nut Cheerios can help to fuel that journey. We hope the new heart shapes not only put a smile on people's faces but inspire them to find new, fun ways to take care of their hearts."
The limited edition heart-shaped Cheerios can be found in boxes of Honey Nut and original yellow-box Cheerios and are already beginning to show up on store shelves. They'll be available nation-wide in January, just in time for National Heart Health Month in February.
A new marketing campaign will also promote good heart health and the new Cheerios with a new commercial, box design and social campaign. The new spot -- which will debut later this month -- features Buzz the Bee announcing the new, limited edition shape and boasting about Cheerio's health benefits.
1.  Three grams of soluble fiber daily from whole grain oat foods, like Cheerios™ and Honey Nut Cheerios™ cereal, in a diet low in saturated fat and cholesterol, may reduce the risk of heart disease. Cheerios provides 1 gram per serving. Honey Nut Cheerios cereal provides .75 grams per serving.
2.  While many factors affect heart disease, diets low in saturated fat and cholesterol may reduce the risk of this disease.
Enter your number to get our free mobile app