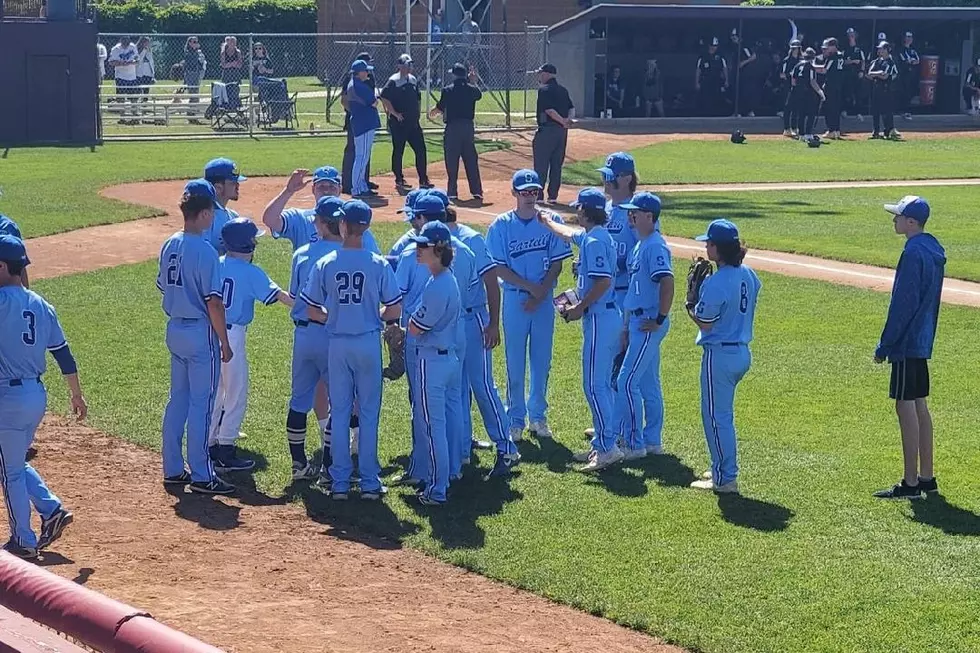 High School Sports Results Monday May 1
photo courtesy of Sartell Baseball on Twitter
The Sartell-St. Stephen baseball team suffered their first loss of the season 8-6 to Rogers Monday night.  Gavan Schulte went 4-4 with a home run, 3 runs scored and 3 RBIs for the Sabres. Dylan Simones went 2-4 for Sartell.  The Sabres play at Willmar today.
Baseball:
Little Falls 12, Albany 2
Maple Lake 15, Holdingford 14
Royalton 11, Kimball 6
Rockford 8, Litchfield 6
Softball:
Rogers 7, St. Cloud 1
Pequot Lakes 12, Royalton 1
Holdingford 7, Maple Lake 4
Eden Valley-Watkins 11, Paynesville 6
Glencoe-Silver Lake 7, Annandale 6
Rockford 15, Litchfield 0
Girls Golf:
6AA Pre-Sections @ Blackberry Ridge in Sartell
Cathedral finished 3rd.  Genevieve Birkeland of Pequot Lakes shot an 82.  Sophia Anderson of Albany tied for 2nd.  She shot an 84.  Avery Maus of Kimball finished 4th with an 84.  Cathedral's top finisher was Averic Andvik who finished 8th with a 99.
Sartell-St. Stephen played yesterday in Willmar at Eagle Creek.  The Sabres took 2nd.
Highlights
Shayla Nordlund- 91 (4th place overall)
Megan Hess- 95 (5th place overall)
Gwen Latunski- 96 (6th place overall)
Girls Lacrosse:
Chisago Lakes 10, St. Cloud 3
Boys Lacrosse:
Chisago Lakes 15, St. Cloud 6
(Joe Torborg scored 4 goals for St. Cloud
Boys Tennis:
Coon Rapids 4, Foley 3
Come Visit St. Joseph, Minnesota in Pictures