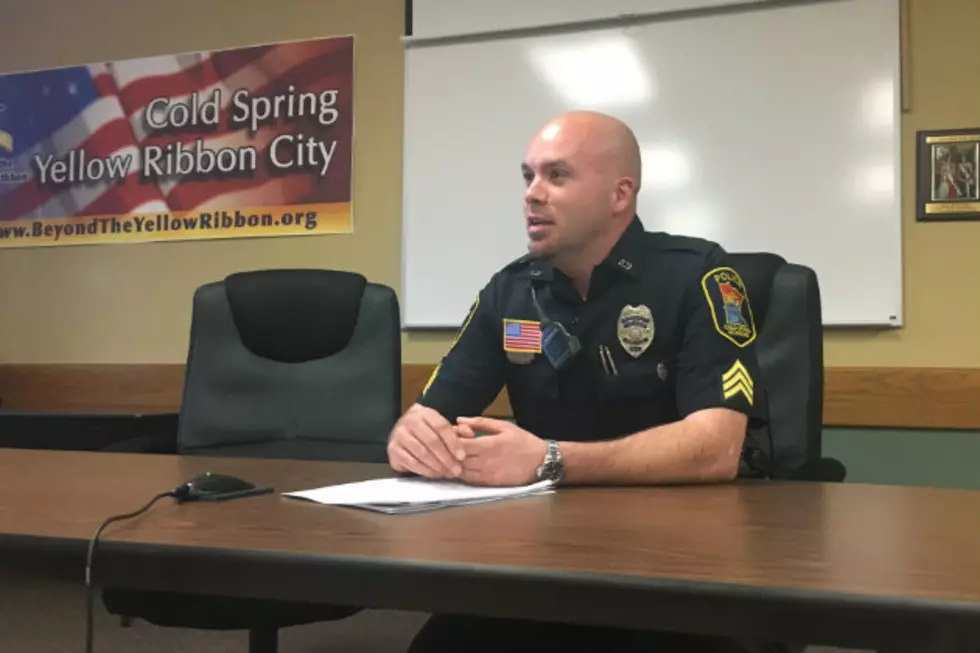 Cold Spring Selects Choice for New Police Chief
(Chrissy Gaetke, WJON)
COLD SPRING -- The city of Cold Spring has selected its choice for its next police chief.
The city council announced at Tuesday night's meeting that they've selected Interim Police Chief Jason Blum for the position. Blum still has to finish the hiring process but he has agreed to take on the role.
Blum is a Cold Spring native, he graduated from ROCORI High School in 1999. He's been with the Cold Spring-Richmond Police Department since 2006 and was promoted to a sergeant in 2013. Blum says his main goal is to be a successful leader within the department.
"There's been a lot of change over the last five years or so, so bringing stability back to the department and getting everybody working together as a team, we already are but just to keep leading that."
City Administrator Brigid Murphy says Blum was one of three final candidates considered for the job, Jeremy Reed from the New Ulm Police Department and Jason LaSart from the Mille Lacs County Sheriff's Office. Murphy says with the work and dedication Blum has given to the city, the council voted unanimously for him to take on the position.
A committee did review seven applicants for the position. Murphy says the committee consisted of herself, two Cold Spring Council Members, Jayme Knapp and Gary Theisen, two Richmond City Council Members, Tim Paczkowski and Katy Kirchner, Richmond Mayor Jim Hemmesch, ROCORI Superintendent Scott Staska, and Paynesville Police Chief Paul Wagner.
Former Cold Spring Police Chief Chris Boucher resigned last December, Blum has been Interim Police Chief since Boucher's medical leave began and resignation was accepted.