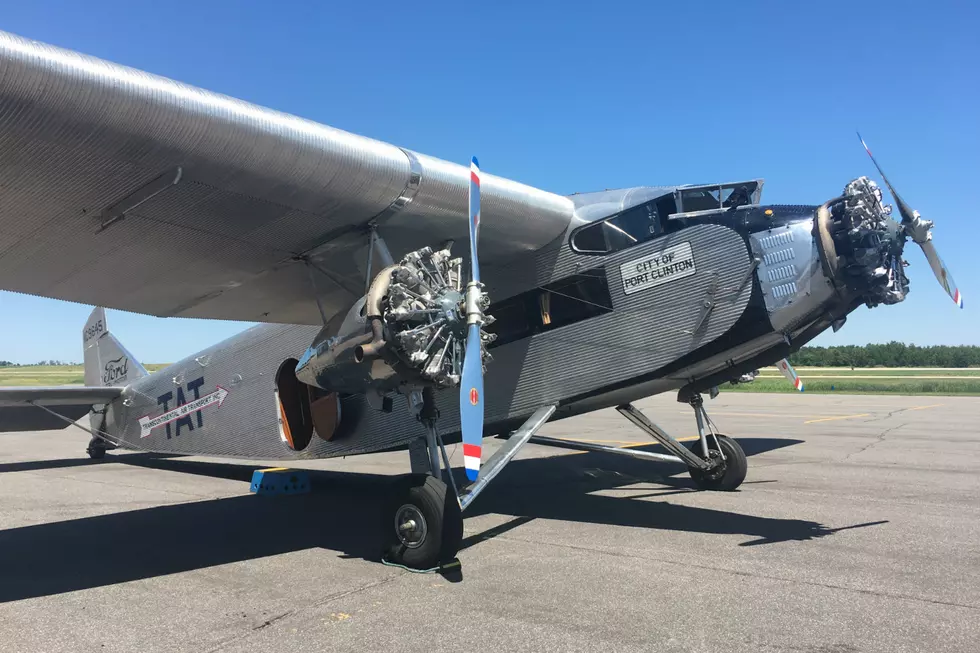 Around the Town: Taking a Ride on a 1929 Ford Tri-Motor [VIDEO]
1928 Ford Tri-Motor (Chrissy Gaetke, WJON)
ST. CLOUD -- You have chance to soar to the sky this weekend at the St. Cloud Airport. A 1928 Ford Tri-Motor has made a stop in the granite city.
Pilot John Hartke says the plane was built about 25 years after the Wright Brothers took flight.
"So going from an airplane like that, made out of tubes, wire, wood and fabric to an all metal airplane it could carry 10 passengers, go about 100 mph, it's just huge progress in 25 years."
Weighing in at just under 12,500 pounds, the Ford Tri-Motor can make a 560 mile journey. EAA based out of Oshkosh, Wisconsin owns two Ford Tri-Motors. Hartke says they get plenty of use.
"These are flying all the time, the engines are completely up to date, although they are an old design they're completely modern and up to date and are used on quite a few airplanes today as a matter of fact."
Throughout the year EAA flies the Tri-Motors to different cities to give rides and tours.
"It's very much a magic carpet ride. It doesn't fly very fast and you've got your choice of an isle or a window seat - that's kind of a joke because they're all isle or window seats."
Some of the plane's features include picture windows and leather seats.
EAA will be offering rides on the Ford Tri-Motor Friday, Saturday and Sunday at the St. Cloud Regional Airport. Adult rides are $70 and rides for children 17-years-old and younger are $50.
After St. Cloud, The Ford Tri-Motor will be visiting Rochester, Minnesota and Rockford Illinois, before making its way back home to Oshkosh, Wisconsin for AirVenture.
During the News at Noon Show, WJON Reporter Chrissy Gaetke travels around the St. Cloud metro area to highlight local celebrations, businesses and charity events. Do you have a suggestion of where she should go? Email chrissy@wjon.com
Videographer Justin LaBounty contributed to this story.