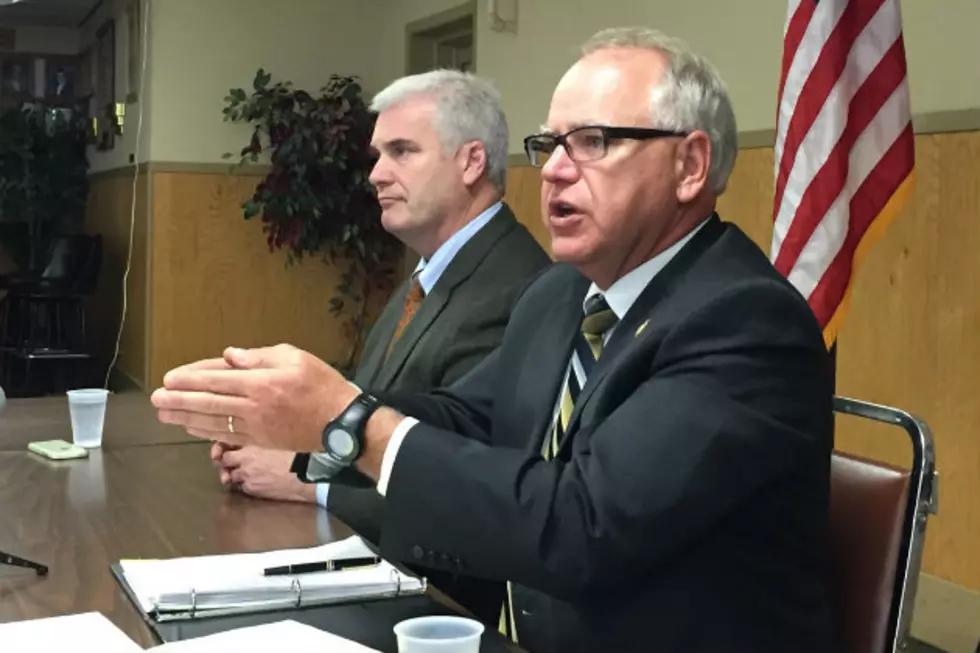 Congressmen Visit St. Cloud to Discuss Problems at VA
Congressmen Tom Emmer (Left) and Tim Walz (Right). Photo by Isaac Schweer, WJON
ST. AUGUSTA -- Congressmen Tom Emmer and Tim Walz were in St. Cloud Friday to hear firsthand from local veteran leaders after some controversy at the St. Cloud VA.
Democratic Congressman Tim Walz, who is a member of the House Veterans Affairs Committee, says it was critical that he and Emmer review and discuss this issue in person in St. Cloud.
"This is the most important part of the job and it's the most gratifying," Walz says. "To see it and hear it, be in the facility, talk with veterans and have lunch with them -- it's the way it's supposed to be."
Walz says he thinks there are some issues in communication and in trust between employees and management, but their commitment to quality care for veterans is unwavering.
"[We have to] try and come up with [a solution] together," Walz says. "The VA is not going to be [solely] fixed by Congress, [or] the American Legion, or the administration -- it's going to be fixed by all of us, especially the American people demanding accountability and quality care."
Congressman Emmer said at the meeting he is drafting a bill that enforces more transparency by the VA when it comes to similar reports in the future.
"What's next is [getting] this federal mediation process off the ground and into place," Walz says.
"We [also] need to keep watching, I think these meetings will probably spur a slew of whistleblowers -- more stories will come out and I think that's good because I'm advocating for transparency and change."