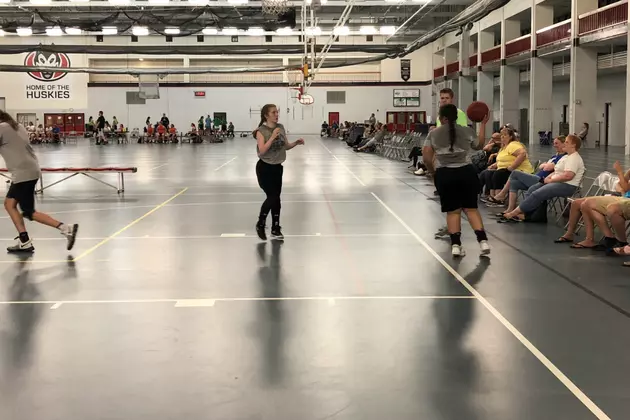 Lynx Name Sauk Rapids Teen to 'Dream Team'
Photo: Richard Leguil, WJON
SAUK RAPIDS -- You may want to start following the career of 14-year-old Sauk Rapids-Rice Storm basketball player Teagin Schmitz.
The point guard wants nothing less than a starting role in the WNBA.
Schmitz has been playing basketball competitively for three years now. Schmitz says when she started to get into competitive sports, she was actually thinking about volleyball.
"I started in 5th grade after I was going to originally play Volleyball -- but that was full -- so my mom suggested basketball. And I just fell in love with it."
She recently got to be a part of the Minnesota Lynx's "Dream Team" where she was partnered up with one of the best players in the WNBA, Lindsay Whalen.
The "Dream Team" picks five kids from across Minnesota to participate in some Lynx team activities. These include signing an honorary contract, taking part in a practice and several other events throughout the season.
Schmitz says she fell in love with basketball thanks to the team aspect but also likes the prospect of future challenges and rivalries.
"The teamwork, getting to know new people playing against new people. Maybe some new rivalries. It's all fun and games right now [at my level] but in high school, I'm ready for the challenge."
She wants to follow in the footsteps of Whalen, including playing for her at the University of Minnesota.
"I know it's a big goal, but I really want to play there because Lindsay's the coach, and they're a great team and great school."
Schmitz may have lofty goals, but she's got the heart to get there.
"I wanna prove to everyone that someone like me can become someone, become a star."
She says she like playing both sides of the ball but prefers offense since she can try a few new moves each time. Schmitz says she has some work to do to improve her game, mainly ball-handling and shooting.