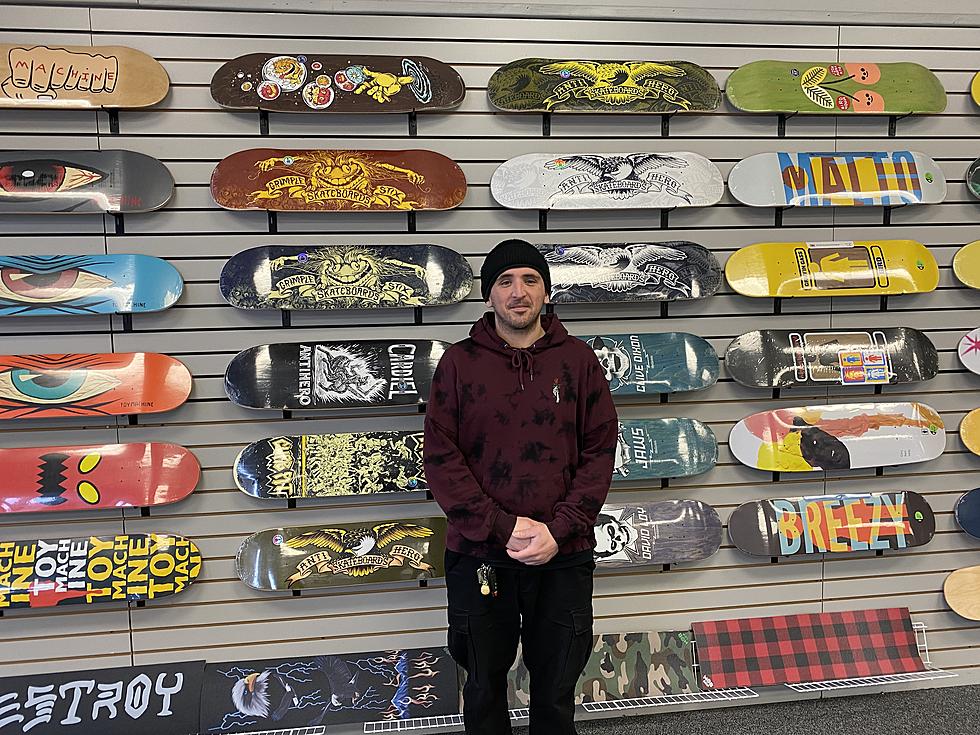 A Dream Come True For Local Skate Enthusiast: Prodigy Skate Supply Opens in St. Cloud
Photo by Kelly Cordes
INSPIRATION AND EXCITEMENT AWAIT YOU AT PRODIGY SKATE SUPPLY
Last week, I had the opportunity to meet one of the most inspiring individuals I think I've met in a long time. His name is Kyle, and he's the owner of the all-new Prodigy Skate Supply of St. Cloud. Kyle opens his doors at 11 am Monday through Saturday, and invites everyone to stop by.  He works in the store so he can get to know you, and would love to meet you and introduce your whole family to the world of skateboarding.
Click on the player below to listen to my interview with Kyle on Wednesday, April 6th, 2021.
Kyle has been skating for a very long time. As someone who has had a love for skating since he was a kid, he is now sharing that dream with people of all ages in our community, by opening Prodigy Skate Supply, which is located right next to Bravo Burrito at 80 33rd Avenue South, in St. Cloud, MN. 56301. You can also call Prodigy Skate Supply and talk directly with Kyle at 320.342.2200, if you have any questions.
PRODIGY SKATE SUPPLY
Prodigy Skate Supply is open Monday through Friday, from 11 am to 7 pm, and Saturdays from 11 am to 5 pm. Kyle not only has all different brands of skateboards, but he also sells all the accessories you could ever want for your board, from wheels to trucks.
BUILD YOUR BOARD IN STORE
I asked Kyle if people can assemble their own boards or if he does it for them, and he said, BOTH. He has a station all set up and ready to go, where Kyle will assemble your board for you, and he'll do it for you.
KYLE'S STORY
Kyle says that when he was young, he was like every other kid. He tried every kind of sport there was, but when he tried skateboarding, he was ALL IN. He has attempted going semi-pro at some point in his skating career, but hurt his knee at the time, and couldn't continue to compete. Today, Kyle is back at it, sharing his skills and knowledge with people in our community.
You'll often find Kyle at our local skate parks. Kyle says he can watch someone and give them pointers on how they can do certain moves better and is happy to do it.  He loves that skateboarding crosses all barriers and says he wants to bring our community closer together through skateboarding. It doesn't matter how you identify, your race, age, or if you're a beginner or an advanced skater. The skateboarding community welcomes all.
Kyle says that skateboarding is a challenging sport that teaches kids great skills; including coordination, balance, strength, how to have fun, and most importantly life lessons. "You're eventually going to fall, just like in life. Skateboarding teaches you that you just get back up and try again."
Although Prodigy State Supply is just opening its doors, Kyle has big dreams for his store. He wants to eventually offer classes to kids, and he's currently working on bringing in lots of skate brand merchandise, including shoes, t-shirts, and much more.
8 Field Trips All Central Minnesota Kids Went On
Minnesota's Most Unique Places To Stay The Night
Explore Maple Island Park in Little Falls