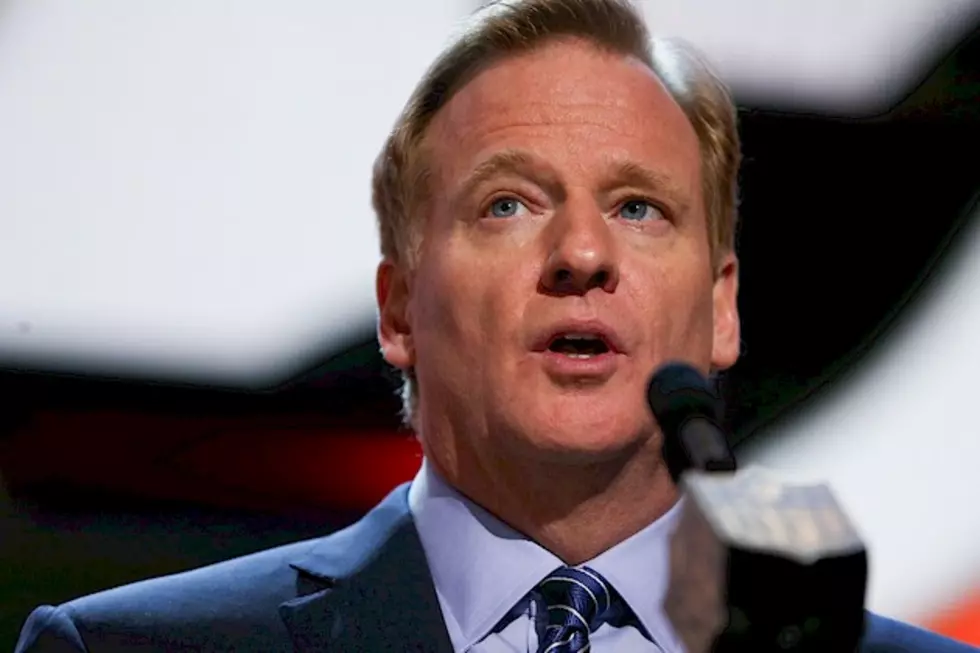 10 Central Minnesota Football Players Drafted by the NFL
NFL Commissioner Roger Goodell speaks at the 2015 NFL Draft. (Getty Images)
Unbeknownst to some, Central Minnesota has been the home of many NFL stars.
From St. Cloud State alumni Todd Bauman and Keith Nord to St. John's alumnus
Rick Bell. From former Duluth Eskimo Doc Williams to Hall of Famer Jim Langer,
this region has seen its fair share of football talent.
However, there is one thing these men all have in common: they never got to hear their name called on draft day. But fortunately, there have been some Central Minnesota natives to have had the honor of hearing their name called. And with the 2016 NFL Draft getting closer and closer, let's take a look at some of the best players from Central Minnesota to have been taken in the NFL Draft.
---
SPECIAL TO TOWNSQUARE MEDIA ST. CLOUD
BY TRENT STEFFES
---
Keith Fahnhorst, St. Cloud
1974 Draft: Round 2, Pick #35

Keith Fahnhorst was the first of two brothers from St. Cloud Tech High School to
get drafted in the NFL, by way of the University of Minnesota. Taken in the second
round of the 1974 NFL Draft, the San Francisco 49ers selected a player who would
anchor their offensive line at Tackle for over a decade. Fahnhorst was a two-time
Super Bowl champion, competing in Super Bowls 16 and 19. He was twice named
to the First Team All-Pro in 1983 and 1984, and played in the 1984 Pro Bowl as
well. Fahnhorst managed to notch 160 starts throughout his illustrious NFL career,
every single one of them in San Francisco.
---
John Carlson, St. Cloud
2008 Draft: Round 2, Pick #38
From right here in St. Cloud, John Carlson attended high school in Litchfield and
then played tight end for the Fighting Irish of Notre Dame. From there, Carlson
was drafted in 2008 by the Seattle Seahawks. He played there until 2012, when he
came back home to Minnesota and wore the purple for two season in 2012 and
2013 alongside college roommate and Vikings center John Sullivan. After that he
played one season down in Arizona with the Cardinals in 2014, which would end
up being his last. Carlson tallied 15 touchdowns during his seven year career and
amassed over 2,250 yards. Many may remember his remarkable high school
athletic career which included three state basketball titles, a preseason McDonald's
All-American nomination and being named to the All-State Tennis team.
---
Matt Spaeth, St. Michael
2007 Draft: Round 3, Pick #77
Born in St. Michael, Matt Spaeth went to high school in Clovis, California. Spaeth
returned to the North Star state to play tight end for the Golden Gophers football
team in 2003. There he receiver such accolades as becoming a two-time All-Big
Ten nominee in 2005 and 2006, the John Mackey Award in 2006 (awarded to the
nation's top tight end) and an AP First Team All-American selection in that same
year. Spaeth was taken by the Pittsburgh Steelers in the third round of the 2007
NFL Draft. He has gone on to have two stints in Pittsburgh, sandwiching a two
year stint with the Chicago Bears from 2011-12. He still currently plays in
Pittsburgh, with a Super Bowl 43 championship under his belt.
---
Eric Decker, Cold Spring
2010 Draft: Round 3, Pick #87
A product of Rocori High School, Eric Decker went on the play college ball at the
University of Minnesota where he made a huge impact and was named to the 2008
First Team All-Big Ten. Then in 2010, the wide receiver was drafted by the Denver
Broncos and after a few years, he got to catch passes from future Hall of Famer
Peyton Manning. Decker currently plays for the New York Jets, whom he signed
with in free agency before the 2014 season. Throughout his career he has tallied
over 5,000 receiving yards and 50 receiving touchdowns to go with it. Decker and
his wife, country signer Jessie James, have two children: daughter Vivianne born in
March of 2014 and son Eric born in September of 2015.
---
Jim Fahnhorst, St. Cloud
1982 Draft: Round 4, Pick #92
The second of the Fahnhorst brothers, Jim Fahnhorst played linebacker in high school and college at St. Cloud Tech and the University of Minnesota, respectively. However, Jim's path to the NFL was far more different than older brother Keith's. Taken in the 4th round of the 1982 Draft by his hometown Vikings, Fahnhorst opted instead to play in the upstart United States Football League. He played with the Chicago Blitz in 1983 and then the Arizona Wranglers in 84. That fall, after the USFL season was completed, Fahnhorst signed with the San Francisco 49ers where he joined his older brother Keith. Spending his whole career in San Francisco, Fahnhorst became a three-time Super Bowl champion, including winning Super Bowl XIX alongside his older brother Keith. Recently, Fahnhorst has been working as a financial advisor and has had coaching roles with Wayzata and Maple Grove High Schools and Macalester College.
---
Matt Herkenhoff, Melrose
1974 Draft: Round 4, Pick #94
Matt Herkenhoff was born in Melrose in 1951 and played football at Melrose High
School. The big offensive lineman then went on to play at the University of
Minnesota where he played well enough to get drafted in the 1974 NFL Draft by
the Kansas City Chiefs. However, he opted to forego the NFL and play in the
brand new World Football League. He played only one season in the WFL in 1974
with the New York Stars and the Charlotte Hornets. Come 1976, Herkenhoff
decided to jump to the NFL and joined the Kansas City Chiefs, where he played on
the Offensive Line from 1976 until his retirement in 1985.
---
Joe Schmiesing, Melrose
1968 Draft: Round 4, Pick #96
The Melrose-born Joe Schmiesing attended high school at Sauk Centre high
School. The defensive lineman went on to be both a Golden Gopher at the
University of Minnesota and an Aggie at New Mexico State University. Schmiesing
was drafted by the St. Louis Cardinals (no typo here) in the 1968 NFL draft.
Schmiesing went on to play with four different NFL franchises starting with St.
Louis until 1971, and then one year stints with the Detroit Lions, Baltimore Colts
and finally the New York Jets in 1974.
---
Dave Dalby, Alexandria
1972 Draft: Round 4, Pick #100
Dave Dalby was born in Alexandria in 1950 but grew up in California, going to La
Serna High School and then on to UCLA to play football, where he was eventually
named to the UCLA Hall of Fame. Dalby was drafted by the Oakland Raiders in
1972, and stayed within the confines of the Golden State. During his 14 year
career, spanning the 70s and 80s, Dalby was named to a Pro Bowl, started 17
playoff games and was a three-time Super Bowl Champion including Super Bowl
XI, where we all remember the Raiders conquering the Vikings to give coach John
Madden his first championship. Interestingly enough, when Dalby took over the
starting center position in 1974, he was only the second starting center in Raiders'
history, replacing Hall of Famer Jim Otto who had started every game since the
team's 1960 beginning.
---
Doug Kingsriter, Little Falls
1973 Draft: Round 6, Pick #139
Born in Little Falls in 1950, Doug Kingsriter played high school football at Richfield
High. From there, he went on to play tight end at the University of Minnesota,
where he became and AP All-American in the 1971 season. In 1973, the Minnesota
Vikings decided to keep Kingsriter in state once again and nabbed him in the sixth
round of that year's draft. During his career, Kingsriter played in two consecutive
Super Bowls with the Vikings, those being Super Bowls VIII and IX facing off
against the Miami Dolphins and Pittsburgh Steelers. Since retiring, Kingsriter has
worked in both real estate and children's book publishing, while also helping out
with the Minneapolis Heart Institute Foundation.
---
Craig Sauer, St. Cloud
1996 Draft: Round 6, Pick #188
Craig Sauer seemed destined to be a professional athlete by simply by his last name. He played linebacker at Sartell High School and then went on to play at the University of Minnesota. In 1996, Sauer was drafted by the Atlanta Falcons. And
unfortunately for Central Minnesota based Vikings fans, Sauer was part of the 1998 Atlanta team that sent the Vikings packing in the NFC Championship game that year. And of course after that, he went on to play in Super Bowl XXXIII. Sauer's
father Curt was a professional baseball player in the Twins organization and was no stranger to raising elite athletes. In addition to Craig playing in the NFL, three of his brothers were drafted into the NHL: Kent by the Nashville Predators in 1998, Kurt by the Colorado Avalanche in 2000, and Michael by the New York Rangers in 2007.
---
The NFL Draft commences with the First Round on Thursday, April 28 at 7 p.m. Rounds Two and Three will be held on Friday, April 29, and Rounds Four through Seven take place April 30. The Vikings currently have the 23rd overall pick.