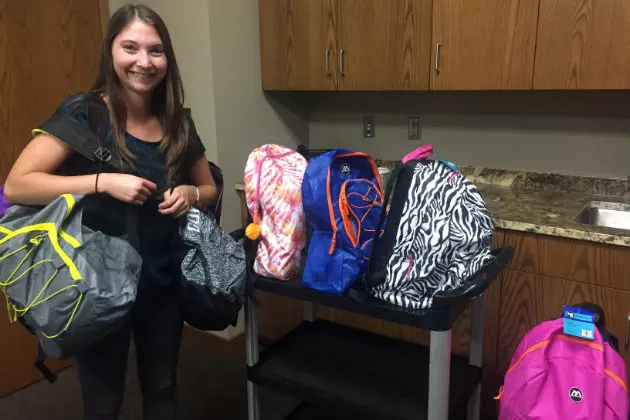 Sauk Rapids Church Fills Backpacks for Children in Need
Erica Mortensen with the backpacks Discovery Church filled. (Justin LaBounty WJON)
SAUK RAPIDS - Everything from notebooks to protractors were donated to help fill backpacks at a Sauk Rapids church.
Earlier this summer, Erica Mortensen was encouraged to share a dream by Discovery Church. She shared her dream of providing for kids with church pastors Art Cotant and Dave Greenberg.
Nearly a month ago, Mortensen started an initiative to fill 30 backpacks for kids who are in need of school supplies. On Sunday, when her and other volunteers started to fill the backpacks with the donated supplies, she was amazed by the support the church provided.
"I purchased 39 backpacks.  I know we filled all of them up and I am sure with all the supplies we had we could have surpassed that."
Though the dream was Mortensen's, she says she could not have done it without the help of Pastor Greenberg.
"[Greenberg] is the one who really helped me get this going. He helped me get the table, announcemnt in the bulletin, he and his family packed the backpacks. I had the dream and he helped me make it real."
To help purchase the backpacks, the church received a grant from Thrivent Financial.
The bags packed by Discovery Church are being donated to the Salvation Army to help youth in Central Minnesota.