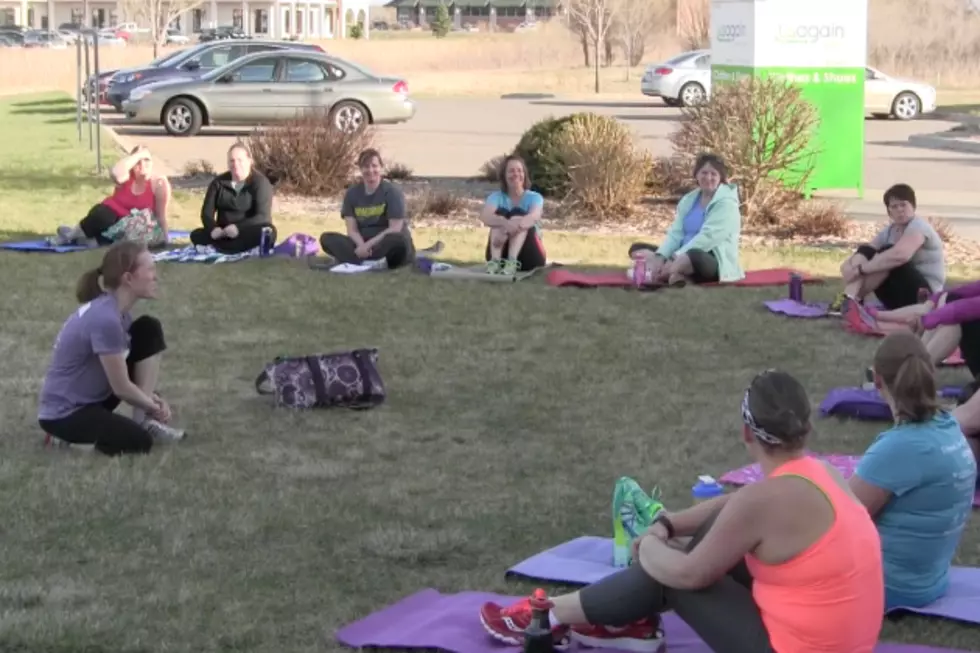 Fitness Friday: Building A Bond With A New Women's Running Group [VIDEO]
The first meeting of the Moms on the Run get to know each other. (Photo: Alex Svejkovsky, WJON News)
SARTELL -- This week in our "Fitness Friday" series on WJON, we learn more about a new running group called Moms on the Run.
Moms on the Run is a program designed for beginning runners that was formed in the Twin Cities.
Tami Huberty has always had a passion for running, and through that passion, decided to start a Moms on the Run franchise in the St. Cloud area.
"I always wanted to join the group when my kids were little, but the closes one was Minneapolis. So I finally said yes I'll start one here," says Huberty.
The class meets Monday from 6:30 p.m. - 7:30 p.m. and Thursday from 6:00 p.m. to 7:00 p.m. in front of Bernick's Arena in Sartell.
Huberty says the classes are designed for runners of all levels.
"We start with some dynamic stretching and then we go and do a 30 minute run, and it's interval training so each week gets a little more difficult," says Huberty.
The course runs for 18 weeks leading up to the first "Moms on the Run" 5K race in the Twin Cities.
"We are going to St. Paul, Lake Fallon area for the first annual Moms on the Run race that is put together for us," says Huberty.
She says you don't need to be a mom to run with the group. The group is meant for any woman of any age who wants to participate in a fun way to exercise.
"Any woman 18 and up, with or without kids are welcomed. Kids are welcomed to join. The groups in the cities have had women well into their 60's running," says Huberty.
Huberty says she hopes the program continues to grow and the individuals involved will form a bond.
"A lot of them just want to do this, they just don't have that accountability or motivation to do it. So this is a way for them to get out and do that," says Huberty.
If you are interested in joining the group click on Register.