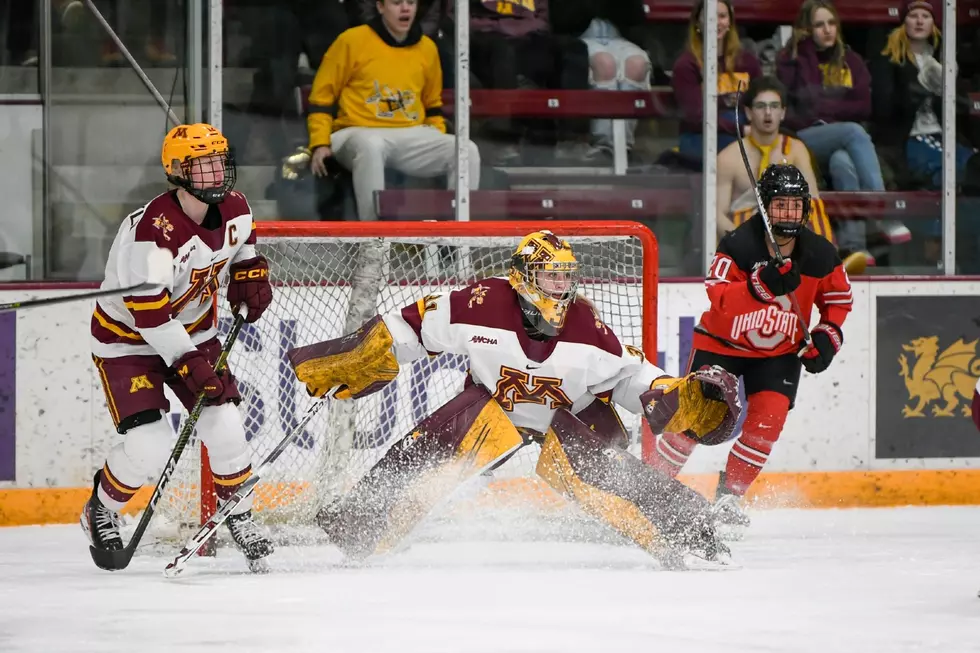 No. 3 Gophers Upset No. 1 Ohio State, Huskies Tie Miami U
University of Minnesota
The St. Cloud State University, University of Minnesota, and College of St. Benedict women's hockey teams opened the weekend with big conference wins, the Granite City Lumberjacks and St. Cloud Norsemen both notched weekend opening shutout wins, while the St. Cloud State men's hockey team settled for a tie with Miami University, and the SCSU baseball team returned to action with a doubleheader split Friday. Meanwhile, Northern State proved to be too much for both St. Cloud State basketball teams, and the Minnesota Timberwolves dropped a close one at home to the Magic. On Saturday the CSB basketball team and St. John's University basketball and hockey teams will resume MIAC competition and the Gopher men's basketball team will host Maryland.
RECAPS:
- The no. 14 SCSU women's hockey team shut out no. 8 Wisconsin 1-0 to open the weekend series in Madison Friday night. Jenniina Nylund scored the lone goal for St. Cloud. JoJo Chobak made a perfect 39 saves for her program-record fifth shutout win this season. The Huskies improve to 16-14, 9-14 WCHA and the Badgers fall to 20-8-1, 16-6-1 WCHA. The teams will conclude the season series at 3:00 p.m. on Saturday.
- The no. 3 Gopher women's hockey team defeated no. 1 Ohio State 4-2 in Minneapolis on Friday. Abbey Murphy led all scorers with two goals for Minnesota. The Gophers improve to 23-3-2 with their 13th straight win and are a perfect 13-0 at home. Ohio State now sits at 24-3-2. The teams will close out the weekend and season series at Ridder Arena on Saturday. Puck-drop is set for 2:00 p.m.
- The CSB hockey team used a late push to beat St. Mary's 3-1 at home on Friday. The Bennies took an early 1-0 lead in the first period, but SMU quickly tied things up. After a scoreless second period, St. Ben's found the back of the net twice late in the third to break the tie and secure the win. Sami Hackley, Aurora Opsahl, and Emma Rooks each scored a goal for CSB. Ally Frantzick made 36 saves and allowed just one goal. The Bennies improve to 11-8 and the Cardinals fall to 6-13-1. The teams will complete the series at Ritsche Arena on Saturday. Puck-drop is set for 4:00 p.m.
- The Lumberjacks opened the weekend with a 5-0 shutout win in New Ulm Friday. Granite City outshot the Steel 50-23 in the win. Luke Delzer, Tucker Skime, Hayden Johnson, Reed Hanus, and Coby Weber each lit the lamp once for the Lumberjacks. The Jacks improve to 31-3-0-1 and will return home for two against the Gillette Wild (31-5-1-2). Game one is set to start at 7:30 p.m. Saturday.
- The Norsemen earned an important 2-0 shutout win over Bismarck at home Friday night. Blake Perbix and Tyler Dysart each scored one for St. Cloud. Ethan Dahlmeir made a perfect 13 saves in the win. The Norsemen improve to 19-16-2-2 and have moved up into fourth place in the Central Division ahead of the Bobcats who are now 17-17-3-2. The teams will play game two in St. Cloud at 7:00 p.m. on Saturday.
- The no. 5 SCSU men's hockey team earned a 3-3 tie with Miami University at Herb Brooks National Hockey Center Friday night. Aidan Spellacy, Mason Salquist, and Veeti Miettinen each scored a goal for St. Cloud. The Huskies fall to 18-8-1, 10-6-1 NCHC and the RedHawks fall to 7-17-3, 2-13-2 NCHC. The teams will close out the weekend with game two in St. Cloud at 6:00 p.m. on Saturday.
- The SCSU baseball team played their first games of the season in Joplin, Missouri on Friday, earning a split. The Huskies took game one with a dominant 17-0 performance against Southwest Baptist University, but came up short 2-1 against Missouri Southern State in game two. John Nett led St. Cloud with four runs on the day. The Huskies are now 1-1 and will face SBU once again on Saturday. First pitch is set for 3:00 p.m.
- The SCSU men's basketball team dropped their sixth straight game 79-61 to Northern State University on Friday. St. Cloud fell behind 43-25 in the first half and was unable to overcome that deficit in the second half. Luke Taylor led SCSU with 22 points and 10 rebounds. Matthew Willert added 14 points. The Huskies fall to 7-15 and will conclude their weekend road trip with a visit to MSU-Moorhead at 3:30 p.m. Saturday.
- The SCSU women's basketball team came up short 59-50 on the road against Northern State. The Huskies trailed 27-25 at the half and then got outscored in each of the final two quarters. Jada Eggebrecht led St. Cloud with 17 points and Katrina Theis added 15. The Huskies drop to 15-6 and will look to return to the win column when they face Minnesota State University Moorhead at 5:30 p.m. on Saturday night.
- The Timberwolves snapped their winning streak with a 127-120 loss to Orlando at Target Center Friday. After falling behind 90-75 in the third quarter, Minnesota outscored the Magic 45-37 in the final frame, but their rally fell short. D'Angelo Russell led all scorers with 29 points for the home team, and Anthony Edwards added 19. The Wolves fall to 28-27 and will look to rebound from the loss when they host Denver (36-16) on Sunday. Pre-game coverage starts at 5:30 p.m. on AM 1390 and 93.9 FM Granite City Sports.
PREVIEWS:
- The SJU basketball team (13-7, 10-5 MIAC) will look to earn back-to-back wins when they host Hamline on Saturday. The Johnnies are currently in second place in the conference with just five games remaining. St. John's leads the overall series 95-26 and defeated the Pipers 75-46 on the road in December. Tip-off is set for 1:00 p.m. at Sexton Arena.
- The SJU hockey team (12-8-2, 8-4-1 MIAC) will complete the weekend series against St. Mary's (9-10-1, 5-6 MIAC) in Winona on Saturday. The Johnnies beat the Cardinals 2-0 at home on Thursday and currently sit in second place in the conference. Puck-drop is set for 7:05 p.m.
- The CSB basketball team (14-6, 11-6 MIAC) will host Hamline (14-6, 11-6 MIAC) in a critical conference matchup. The teams are two of the four tied for third place with only five games remaining in the season. The Bennies beat the Pipers 53-52 back in December and lead the overall series 66-10. Tip-off is set for 3:00 p.m.
- The Gopher men's basketball team (7-14, 1-10 B1G) will look to break a six-game losing streak when they host Maryland (15-7, 6-5 B1G) on Saturday. Minnesota is 2-13 all-time against the Terrapins. Maryland is currently riding a three-game winning streak. Pre-game coverage tips off at 7:30 on AM 1240 and 95.3 FM WJON.
LOOK: Oldest Disneyland Rides From 1955 to Today
Stacker
, set out to compile a definitive list of every Disneyland attraction you can enjoy today and ranked them by their age. Using real-time data from
Touring Plans
, Disney archives, and historical news releases and reviews, our list starts with exciting recent park additions and stretches back to the oldest opening-day classics. This list focuses on the original Disneyland Park, so you will not see any rides from its neighboring California Adventure located just across the promenade. Read on to discover the oldest Disneyland rides you can still ride today.
LOOK: MLB history from the year you were born
Stacker
compiled key moments from Major League Baseball's history over the past 100 years. Using a variety of sources from Major League Baseball (MLB) record books, the Baseball Hall of Fame, and audio and video from events, we've listed the iconic moments that shaped a sport and a nation. Read through to find out what happened in MLB history the year you were born.