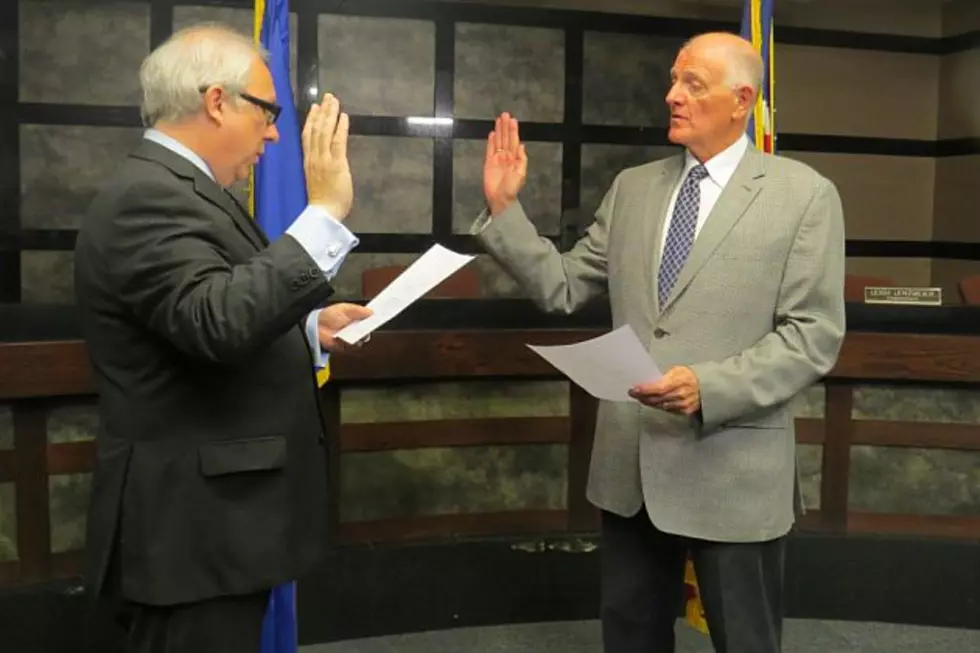 UPDATE: Bechtold Retires After Board Names Former Dakota County Sheriff as Stearns County Sheriff
New Stearns County Sheriff Don Gudmundson being sworn in. Photo courtesy of Stearns County via Twitter
ST. CLOUD - The Stearns County Board of Commissioners are going with an outsider to take over as sheriff. During Tuesday's board meeting, commissioners voted three-to-two to hire former Dakota County Sheriff Don Gudmundson. He takes over for former Sheriff John Sanner who retired last month.
Chair Dewayne Mareck says he's frustrated to be put in the spot of having to fill the elected position.
We didn't put ourselves in this position.  A retirement mid-term and state law forces us into this position.
The other two finalists for the job were current Chief Deputy Bruce Bechtold, whom Sanner recommended to be his replacement, and current Waite Park Police Chief Dave Bentrud.  A total of 13 people initially applied for the job before commissioners narrowed the field to the final three.
Commissioner Joe Perske says he heard a lot of feedback from people who wanted them to make a change.
I think its been brought out by the commissioners here, and by the emails and phone calls, that perhaps there's a desire for a change within the department.
County Administrator Mike Williams says with the announcement of Gudmundson as Sheriff, Bechtold has opted to resign effective immediately. Williams says Bechtold has served the county well in his 14 years as Chief Deputy.
Gudmundson takes over immediately.  Williams says it will be up to Gudmundson to appoint a new chief deputy.
Commissioners have set his salary at $150,069.  He was the Dakota County Sheriff from 1994 until 2015.  He also served as an interim sheriff if Steele County.  He told the commissioners he is not planning on running for sheriff in the next election.
The Stearns County Sheriff's position will be up for election again in November of next year.
Sanner had been the Stearns County Sheriff since 2002.