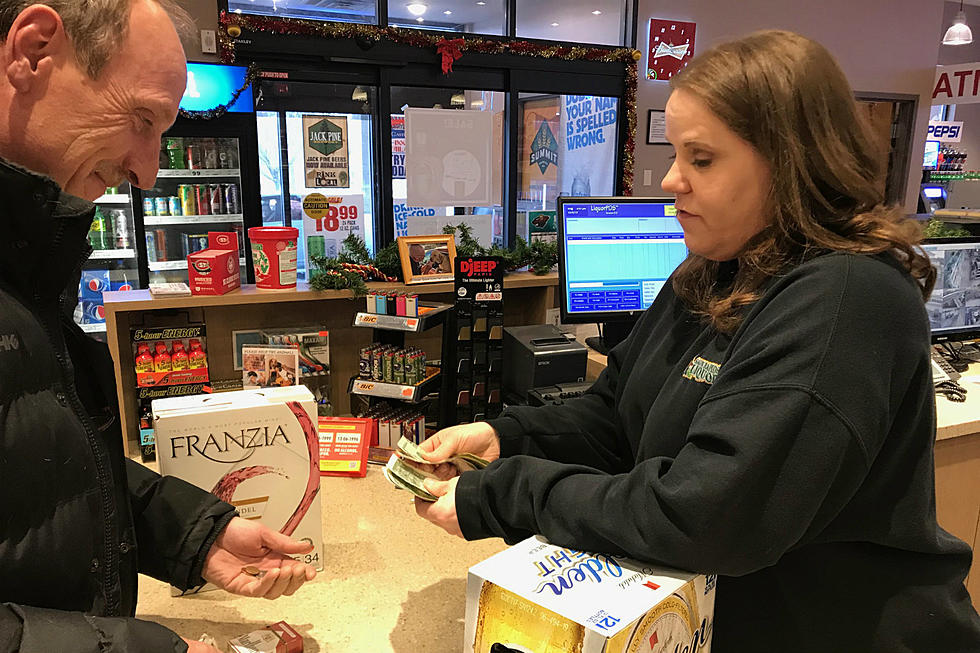 Follow Up: Popularity of Sunday Liquor Sales
Missy Millner checks out a customer at the Sauk Rapids Municipal Liquor Store. -- Photo by Lee Voss, WJON
SAUK RAPIDS -- Sunday, July 2nd marked the first time Minnesotans could buy alcohol on a Sunday in state history. But, now almost six months later, we're wondering whatever happened with that?
Tom Boulton is the store manager at Sauk Rapids Municipal Liquor. He says that first Sunday in July was very busy with gross receipts totaling around $9,500. Since then, a typical Sunday has been around $3,500. But, Boulton says it's somewhat misleading because Friday and Saturday sales appear to impacted.
Now that we're open on Sunday, we definitely see our Fridays and Saturdays are slower.  Especially Saturday nights, we don't get the end of the night rush anymore like we used to get.  People are able to buy seven days a week, so people don't have to rush in on Saturdays to buy anymore.
Boulton says he added one staff member, in part, because of Sunday sales. But, he also says gross receipts were already up prior to law change and a 12th employee was hired to accommodate both scenarios.
Boulton says despite limited additional revenue, they plan to stay open on Sundays in 2018 because it allows customers to have the convenience of being able to shop seven days per week.
It's a very slight gain, but it still makes more sense to be open than not open.  Because if we're not open, they're just gonna go somewhere else and shop on Sunday and we're still gonna lose our business on Saturday.
In a company statement, Coborn's spokesman Kevin Hurd says the law change has been an additional way to serve their customers who have last minute needs on Sundays. Hurd says the NFL has also bolstered Sunday sales.