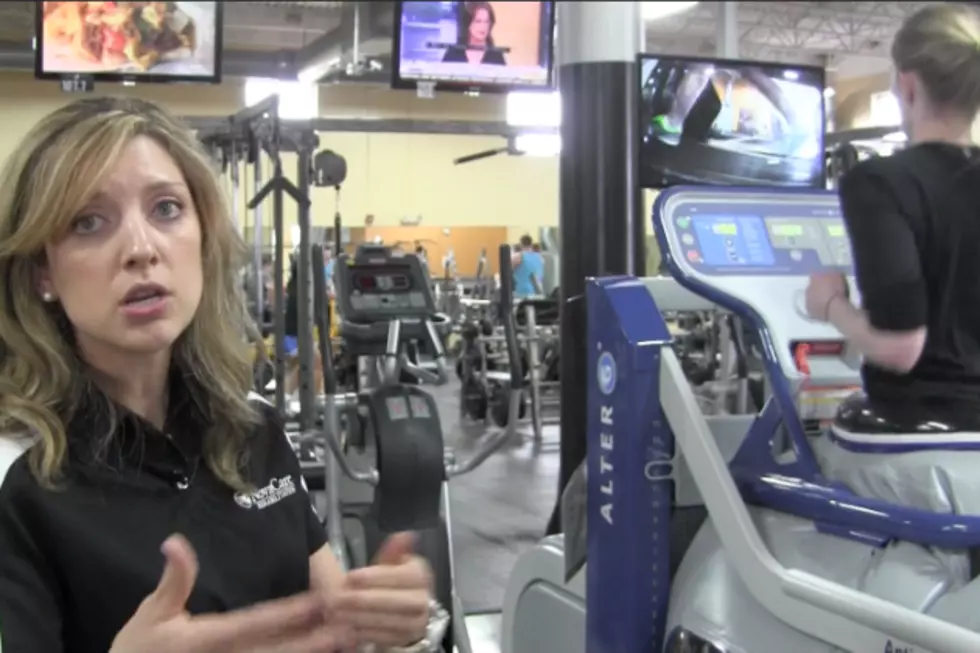 Fitness Friday: Running On Air With The Anti-Gravity Treadmill [VIDEO]
NovaCare's Lisa Laubach explains how to properly use the Anti-Gravity Treadmill. (Photo: Alex Svejkovsky, WJON News)
SARTELL -- This week in our "Fitness Friday" series on WJON, we walk on air with the help of an Anti-Gravity treadmill.
There has been unweighted treadmills in the past but they never really got the job done.
NovaCare Physical Therapist Lisa Laubach says the Alter G treadmill uses NASA technology to reduce your body weight which will help you continue to run while you rehab an injury.
"It acts like a normal treadmill but you can rehabilitate and exercise through injuries and we can work with patients with neurological disorders to help them get stronger walking," says Laubach.
A lot of people think of working out in a pool when it comes to rehabbing, but Laubach says the treadmill can give you a more realistic feeling working in a pool can't.
"With the pool you have resistance and you're also not wearing a shoe. So in this treadmill you can actually wear your shoes and have minimal change and you're rehabbing similar to how you're actually moving in your sport," says Laubach.
Fitness Evolution and St. Cloud Orthopedics are the only two facilities that offer Anti-Gravity treadmills.
Laubach says with the technology the treadmills allow runners to get better feedback on their form with the use of video cameras.
"A lot of times runners can feel what they are doing and so once they see it and you can give them a visual and verbal cue that really makes the difference," says Laubach.
The Alter G treadmill is a great tool for distance runners to continue to train through an injury without losing a step and maintaining their cardiovascular endurance.
"Runners can train through an injury, gradually increase their body weight and get them back to land running without having any loss of their cardiovascular fitness," says Laubach.
If you are interested in using the Alter G treadmill you can contact Lisa Laubach at NovaCare Rehabilitation at 320-529-0036.