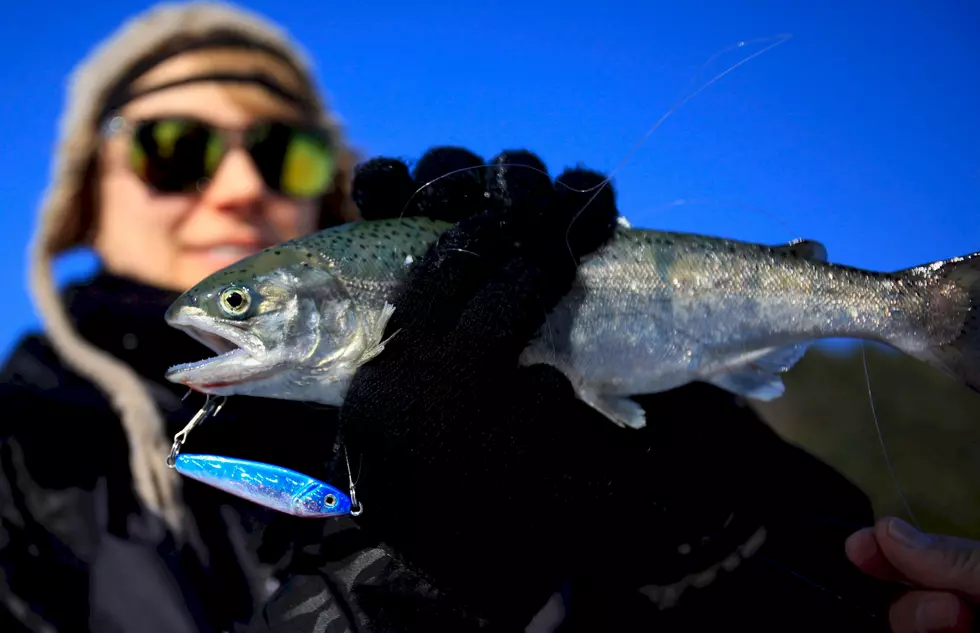 Fight Cabin Fever — Go Cold Weather Fishing
Chung Sung-Jun/Getty Images
---
BY JAMES GERCHY, OUTDOORS WRITER

|

SPECIAL TO TOWNSQUARE MEDIA



---
A sure-fire way to combat cabin fever is to take advantage of the trout fishing opportunities right here in central Minnesota.
So, the January thaw has you dreaming about open water fishing?
There are plenty of local options that will have you wetting your line before you can ask "got any jumper cables?"
One of those options is the Minnesota stream trout catch-and-release season that opened New Year's Day and runs through April 13, 2018 in the following counties in southeast Minnesota: Dodge, Goodhue, Fillmore, Houston, Mower, Olmsted, Wabasha and Winona. The Minnesota DNR webpage for trout fishing is a great source of information for winter stream trout anglers.
If you don't want to deal with frozen rod guides and fingers and you are content to sit on a bucket on a frozen Lake and fish through an 8-inch hole in the ice, then one of the designated trout lakes outside the Boundary Waters Canoe Area might be more for you.
There are several lakes within 60 miles of St. Cloud designated by the DNR as stream trout lakes. If you don't mind heading toward the big city, Cenaiko Lake near the Coon Rapids regional park would be a great choice. Big Watab just west of St. Cloud could be another destination for trout anglers. Little Mud Lake in Meeker County near Watkins has been stocked with both rainbow and brown trout.
Just a short drive to the north, Crow Wing County is home to over a dozen stocked, designated trout lakes. Check the DNR website for a complete list, but take note a few lakes are off limits for the winter season.
Don't know how to get started? There are several great resources you can use to get you on the road to catching winter trout.
One is the DNR webpage for anglers targeting trout in Minnesota lakes. There you will find links to a list of lakes, stocking info, and complete regulations including catch limits. Note that the seasons for years 2017 and 2018 are listed so make sure you are reading the 2018 information.
The second and probably the best is to contact one of the bait shops in the area of the lake you want to fish. They are usually more than happy to set you up with the right bait and inside information that will make your outing a success. They can also answer local ice condition and lake access questions.
If you are looking for a more wilderness experience, you can venture farther north to one of Minnesota's premier trout fishing destinations the Boundary Waters Canoe Area. There are numerous outfitters and lodges that offer winter trout fishing experiences that range from primitive winter camping via dogsled to fully furnished lodges. There you can combine cross-country skiing, snowshoeing and other winter activities with your angling outing. The Explore Minnesota website is a great place to start planning your adventure. They also have a toll-free number to call if you don't have access to the internet: 1-888-VISITMN.