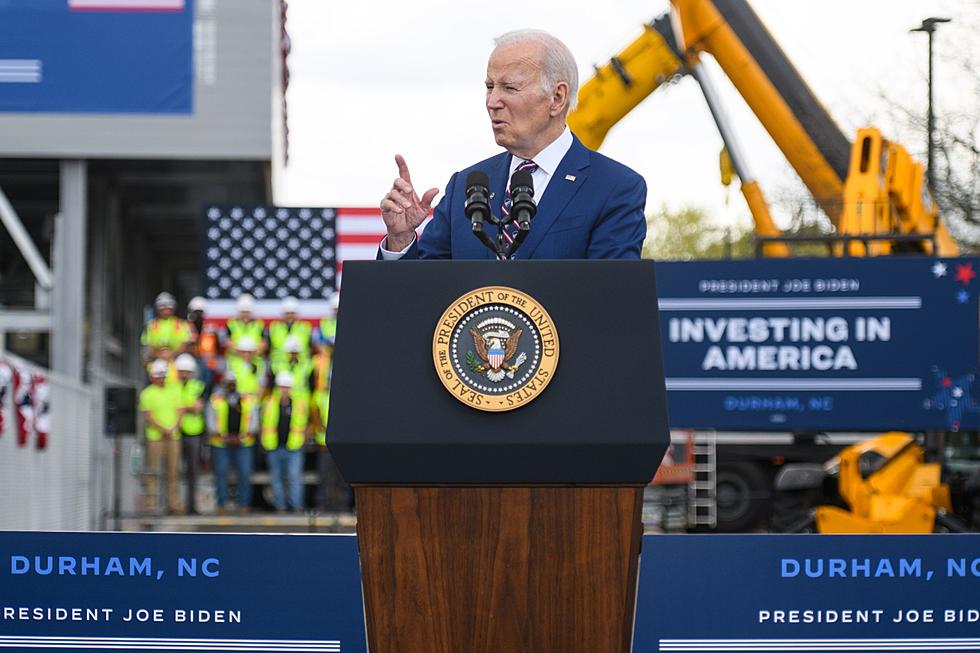 Biden in Fridley Monday to Highlight Business Boom
Photo: Getty Images - Melissa Sue Gerrits / Stringer
WASHINGTON D.C. (WJON News) - President Biden will be in Minnesota Monday as part of the 'Investing in America' tour.
President Biden will tour the Cummin's hydrogen electrolyzer production facility in Fridley Monday.
The 'Investing in America' tour will highlight the over $2 billion in private sector investments across the state. As part of the investments, Xcel Energy plans to invest $575 million to build the largest solar farm in Minnesota near Becker, and Bobcat plans a new construction plant in Rogers and hire an additional 100 employees.
Biden is expected to highlight the more than 180 projects funded by the passage of the Infrastructure Law. 
The visit to Fridley is part of a nationwide tour from several officials highlighting the benefits of a clean energy economy. 
 Other officials traveling in support of the Infrastructure Bill:
First Lady Jill Biden 

will launch a four-state swing

 

to highlight career-connected learning programs that are preparing high school and community college students for good-paying jobs that are being created by the Investing in America agenda. 

Secretary of Education Miguel Cardona

 will join the First Lady for part of the tour.

Secretary of Commerce Gina Raimondo 

will travel to Oregon

 

to highlight private sector investments in supply chains, semiconductor manufacturing, and other advanced manufacturing industries. She will also meet with students and apprentices to learn the skills to fill jobs in innovative industries being created by the President's Investing in America agenda.

Secretary of the Treasury Janet Yellen 

will travel to Connecticut to highlight provisions in the Inflation Reduction Act that are incentivizing companies to invest in clean energy manufacturing across the United States and lowering energy costs.

Secretary of Agriculture Tom Vilsack 

will travel to New Mexico

 

to highlight how the President's Investing in America agenda is providing a historic $65 billion to ensure every single American has access to affordable, reliable, high-speed internet.

Secretary of Energy Jennifer Granholm 

will travel to Oklahoma

 

to highlight investments that are building a clean energy economy and bringing energy supply chains back to the United States.

Secretary of Transportation Pete Buttigieg 

will travel to New Mexico to highlight infrastructure projects that are protecting the health and safety of communities and reducing traffic deaths.

Small Business Administrator Isabella Guzman 

will visit Atlanta, Georgia, and Las Vegas, Nevada

 

to visit small businesses and highlight how President Biden's Investing in America agenda has spurred more small business growth in his first two years in office than ever before. She will also discuss the many small business opportunities created by signature legislation, including the Bipartisan Infrastructure Law, CHIPS and Science Act, and the Inflation Reduction Act.

Senior Advisor and Infrastructure Coordinator Mitch Landrieu 

will travel to California

 

to participate in a ribbon cutting of a bridge that was rebuilt with funding from President Biden's Bipartisan Infrastructure Law and highlight record investments in water conservation and drought resilience.
READ RELATED ARTICLES
Luxemburg, Minnesota in Pictures