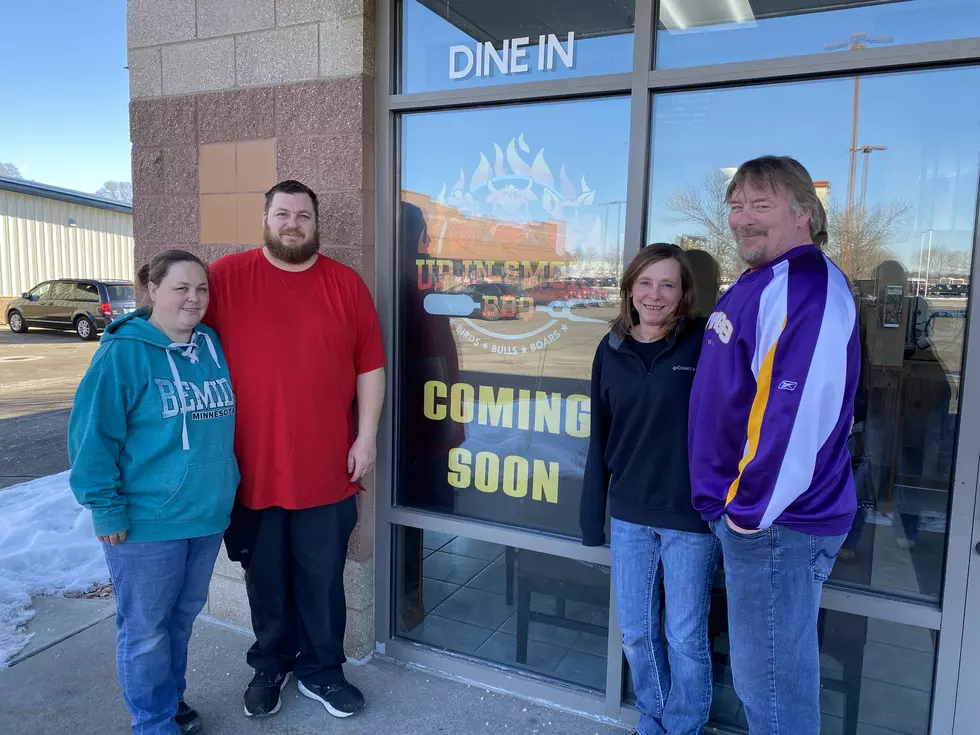 Up In Smoke BBQ Set to Open in St. Cloud February 21st
Abbey Graves
St. Cloud's newest BBQ restaurant is getting ready to open its doors to hungry customers.
Up in Smoke BBQ is owned and operated by Kirk Nyquist and Tim Hoefer along with help from their wives Kelly and Tamara:
If you're tired of going to the same old restaurant everyday, it's time to make a change. Up in Smoke BBQ of St Cloud, MN is a great choice. From BBQ ribs to homemade sausages, Texas style brisket and all homemade sides and soups, we have food that will please any patron. And if you need a lot of food from our BBQ restaurant, don't sweat it. We can bring food right to you with our top-quality BBQ catering services. 
The idea for Up in Smoke BBQ has been in the minds of Tim and Kirk for a while now, but the idea was really set into motion summer of 2022. They started looking for locations and found a restaurant space in the building behind Liberty Bank in St. Cloud. The only thing in the space was a kitchen hood, and the four of them completely transformed it. Driving to different states for things like smokers, chairs, and kitchen gear, the four of them turned an idea into reality.
Right as you walk through the door of Up in Smoke, you can smell the delicious BBQ being made in the spacious kitchen. Homemade spice rubs and sauces created by Kirk and Tim coat locally sourced cuts of meat. Their passion for smoking meat and sharing good quality food with others is immediately apparent when you enter. Anyone who has dabbled in the art of smoking meat knows just how much work goes into making amazing pulled pork, ribs, brisket, and more. Some cuts of meat take over 24 hours to get from the smoker to the plate, and you can taste that labor of love.
Their restaurant has seating for 20, and it adds to the homey vibe they have. Going in for a bite to eat feels more like going to a friend's house for dinner. You're greeted with a smile and a more-than-generous portion of beautifully smoked meats, and unique sides you won't get anywhere else in the area.
Up In Smoke BBQ is located in 2848 2nd Street South Suite 105 in St. Cloud, behind Liberty Bank by Miller Auto. They are set to open on Tuesday, February 21st. Be sure to follow them on social media for updates and specials. 
7 Countries That Are Roughly the Same Size as Minnesota
6 More Restaurants Guy Fieri Should Check Out in Central Minnesota
10 Phobias That Make Living in Minnesota Challenging