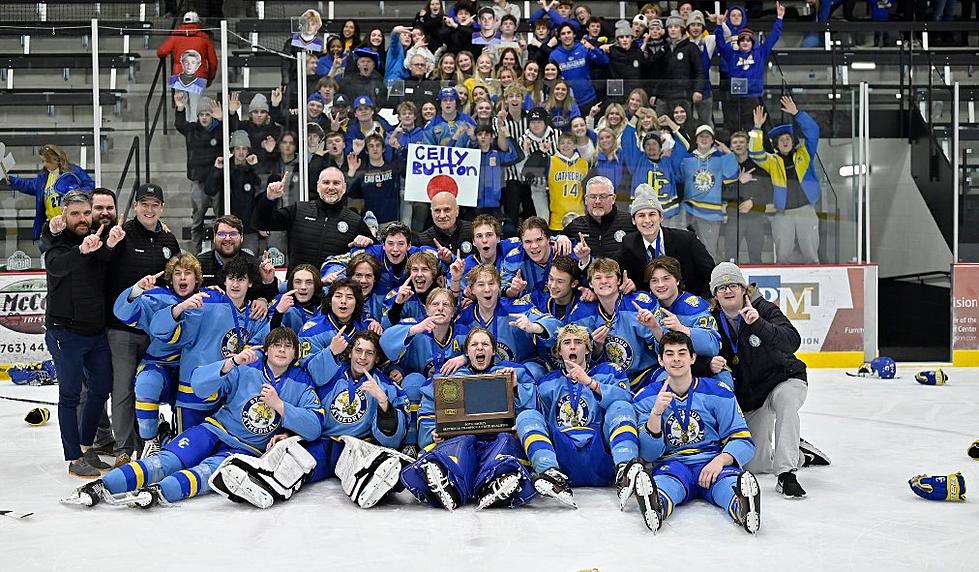 PREVIEW: Cathedral Takes On Warroad At State Hockey Tourney
via CHSPuckSquad on Twitter
The Cathedral Crusaders will take on Warroad at the boys hockey Class A state tournament on Wednesday at Xcel Energy Center. Puck drop is set for 6 p.m. on AM 1390/FM 93.9 Granite City Sports and online HERE.
SECTION 5A CHAMPIONS
The Crusaders took home the Section 5A crown with a dramatic, double overtime win over Little Falls in Elk River. Cathedral found themselves trailing 2-0 after one period and 3-0 early in the second before rallying for a 4-3 win.
"That was pretty wild," Cathedral head coach Robbie Stocker said. "I've played and coached in other section finals and state tournament games and that was the most exciting game I've ever been a part of."
With the Crusaders trailing by two goals after the first, Stocker says that the team decided to stick to the game plan.
"There was some concern, but the biggest thing was that we needed to get back to what our identity is and needed to execute better," Stocker said. "Even when we got down 3-0 it was pretty calm but we got back to playing simple hockey and they eventually wore them down."
It was Andrew Dwinnell who sent the Crusaders to the state tournament on Cathedral's 58th shot of the game.
CATHEDRAL DEPTH
The Crusaders are a deep team this season with eight players tallying 20 points or more and three over 40 points. Stocker says it is a good problem to have.
"We've got nine or ten forwards that can go and that has meant some extremely difficult decisions to make and tough conversations to have," Stocker said. "We have really good hockey players that aren't playing a ton of minutes just because we have a lot of other really good players and from a coach's perspective that's a really good problem to have... I'd say it's been our biggest strength."
John Hirschfeld leads the team with 45 points (17 goals and 28 assists) and Joey Gillespie leads the team with 19 goals. Goaltender Nick Hanson is the team's captain and Stocker says he is the backbone of the team.
"Nick is the rock of the group, he's played pretty much every meaningful minute since his sophomore year and we know he's going to be a great teammate and great leader no matter what happens," Stocker said. "For the guys to have that trust and that confidence in the guy that plays the most important position is really huge."
WARROAD TO BE TOUGH TEST
Warroad enters the state tourney as the top seed with a 27-0-1 record this season. Led by Jason Shaugabay, the Warriors have outscored their opponents 154-35 this season. The Crusaders opened the season with a 4-0 loss to Warroad at the MAC, but Stocker says he isn't sure that he can take a ton away from a game so early in the season.
"Looking back, our team is incredibly different from that point (in the season)," Stocker said. "We've grown a lot throughout the year... I am intrigued to see what it looks like.
"We outshot them that game, we allowed a few chances to get away from us in the second period but from a neutral perspective it was a pretty tight game."
Shaugabay has notched 88 points this season (31 goals and 57 assists) and is Warroad's all time leading scorer. He passed TJ Oshie earlier this season to earn the mark. However, Stocker says unlike basketball or football it can be hard to 'take away' a player.
"I think a lot of people approach that from a basketball or football perspective where you are going to do something different," Stocker said. "Trying to mark a guy or gameplan too much for one player can lead to lead to more issues than solutions.
"The biggest downside if we were to try that is that his linemates are just as good as him."
Ultimately, Stocker says that Cathedral sticking to their game is the biggest key to any potential success.
"If we play our game, commit to our identity, play simple hockey and trust into what we are trying to do... we have a dang good chance," Stocker said.