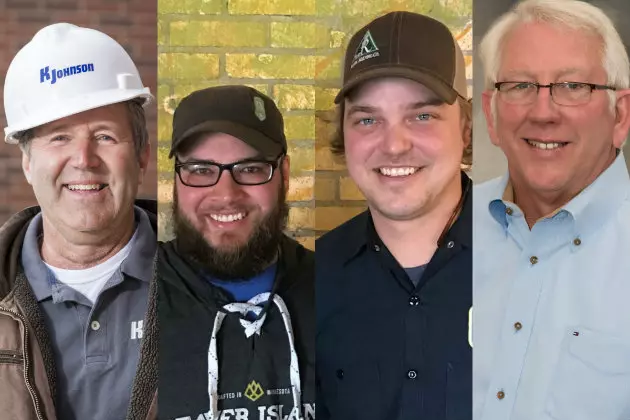 Local Business Owners Awarded 2017 St. Cloud Area Business Awards
(Photo: St. Cloud Area Chamber of Commerce)
ST. CLOUD -- Four business owners have been selected by the St. Cloud Area Chamber of Commerce for the 2017 St. Cloud Area Business Awards.
Kevin Johnson, Doug Bischoff, Nick Barth and Matt Studer have been chosen for the individual awards.
Johnson, owner of K. Johnson Construction, has been selected for the Small Business Owner of the Year award. Johnson established his company in 1987 as a residential concrete and masonry services.  From residential, he moved into apartment work, and eventually into commercial projects.
Bischoff, owner of Design Electrical Contractors, has been chosen as the 2017 Business Central Mark of Excellence: Entrepreneurial Success Award. The award is given to an individual who took over leadership of a company when it was small and has since grown to be a large company. Today the company has over 100 employees and 2016 project revenue of more than $29 million. The company is currently working on a full scale LED retrofit for the City of St. Cloud, changing 3,500 signal lights and 3,000 street light fixtures to LED fixtures.
Barth and Studer, co-founders of Beaver Island Brewing Company, are the winners of the 2017 Emerging Entrepreneurs of the Year. Since 2014, the duo opened a tap room in downtown St. Cloud, a distribution agreement with Bernick's, and constructing a new 10,000 square-foot brewery in the St. Cloud Airport Industrial Park.
All four will be honored at the 2017 St. Cloud Area Business Awards Luncheon on May 2 at the Holiday Inn and Suites from 11:30 a.m. to 1:30 p.m.  The luncheon is open to the public.  The cost is $33 per person and reservations can be made by calling the St. Cloud Area Chamber of Commerce at 320-656-3826.