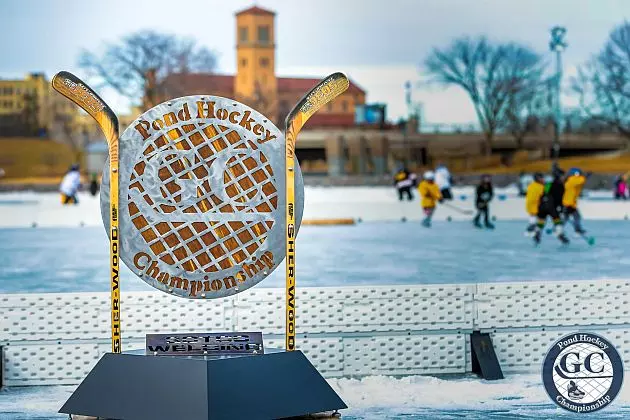 20 Teams At Lake George For 'Granite City Pond Hockey Championships'
Photo courtesy of the Granite City Pond Hockey Championships
ST. CLOUD - It's going to be a nice mild weekend for the annual "Granite City Pond Hockey Championships". The event at Lake George in St. Cloud starts at 5:00 p.m. tonight (Friday).
Gary Hines is the Director of the Minnesota Youth Foundation. He says there are about 20 teams signed-up, with a variety of age levels. One team is traveling a long way to compete.
We actually have a team of Pee Wees flying in from Dallas, Texas to play in this tournament, and then flying back on Sunday night. They wanted their kids to enjoy some Minnesota pond hockey, so this worked out really well for them. They liked the fact that it's St. Cloud, they liked the fact that everything is close by Lake George.
Hines says it's free for you to come watch the pond hockey games. There's also an ice bar under a heated tent with food, beer, and other beverages.
It's a unique situation. We have it so people are able to skate in to the tent as well as walk in. We'll have part of it as a plywood floor, and part of it will be ice.
The Pond Hockey Championships will wrap-up on Sunday afternoon.
He says there's 12 to 14 inches of ice on Lake George right now.