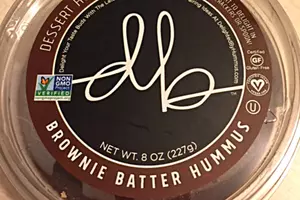 Would You Try Brownie Batter Dessert Hummus?
Dessert Hummus. Photo by Kelly Cordes
Hats off to the people who are trying to make Hummus a thing. It's healthy..it's a great option; but if you ask me, it's still in the works. The gritty texture is NOT appealing to me..but I'll keep trying
Since I really don't like typical hummus dips, I was surprised that I DID like this! It had next to NO sugar, and and a cream rather than gritty texture that surprise me. I found Brownie Batter Hummus, Vanilla Bean Hummus and a few more at the grocery store yesterday and thought I'd try them out.  I found these at the Coborn's is Sauk Rapids.