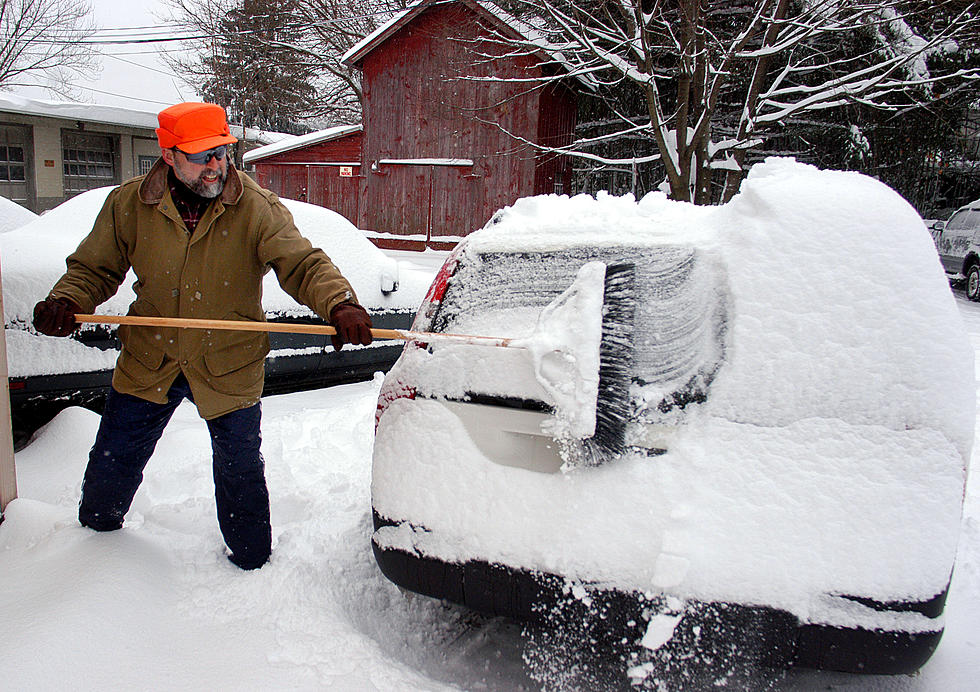 After Double Digit Snowfall, Don't Forget To Clear This Along With Your Driveway
Getty Images
It's looking like we are settling in with between 14-18 inches of fresh snowfall across Central Minnesota. With all the snow, it's a no-brainer that you or someone you know will be outside clearing their driveway and or sidewalk. But there is another item attached to your home that you should probably make sure is also clear...your furnace vent.
The Minnesota Department of Public Safety put out a post back in December to remind Minnesotans to be keeping an eye on their furnace vent, making sure it's clear of ice and snow to keep you and your family safe.
A blocked furnace vent could lead to higher levels of Carbon Monoxide inside your home, too much Carbon Monoxide buildup can result in bodily harm in a person or even death!
Below are some of the most important pieces from the Department of Public Safety regarding winter storm cleanup.
Carbon monoxide poisoning incidents peak when it is cold and snowy due to the increased use of heat sources like fireplaces and wood stoves. Blowing snow can also block exhaust vents on the sides or tops of homes.
There are some simple steps to prevent a CO incident:
Clear snow from the outdoor furnace, dryer, fireplace, or oven vents.
Test CO alarms to ensure they are working properly.
A CO alarm should be on each level of a home and within 10 feet of sleeping rooms.
We all do this, but you shouldn't: Run your car in your garage. Why? CO can leak into your house faster than you think.
When you're digging out of our regular snowfalls this winter, remember to clear out your gas meters, any vents on the outside of your house, and your neighborhood fire hydrants.
Natural gas meters outside your home need to be clear of snow and ice, which can block the meter's regulator vent and cause it to malfunction. If it isn't working properly, it could lead to an interruption in service, a possible gas leak, fire, or even an explosion.
It's dangerous to use a snow blower near a gas meter. The best way to clear the snow and ice from your meter is just by using your hands or a small broom. If you are concerned that your meter's regulator vent is blocked or malfunctioning, give your utility company a call.
So consider yourself reminded now, be sure to check that furnace vent, clear snow around fire hydrants, and keep the gas meter clear of ice and snow build-up.
LOOK: The most expensive weather and climate disasters in recent decades
Stacker
ranked the most expensive climate disasters by the billions since 1980 by the total cost of all damages, adjusted for inflation, based on
2021 data from the National Oceanic and Atmospheric Administration (NOAA)
. The list starts with Hurricane Sally, which caused $7.3 billion in damages in 2020, and ends with a devastating 2005 hurricane that caused $170 billion in damage and killed at least 1,833 people. Keep reading to discover the 50 of the most expensive climate disasters in recent decades in the U.S.
175 Years of Benton County History
LOOK: The most extreme temperatures in the history of every state
Stacker
consulted 2021 data from the
NOAA's State Climate Extremes Committee (SCEC)
to illustrate the hottest and coldest temperatures ever recorded in each state. Each slide also reveals the all-time highest 24-hour precipitation record and all-time highest 24-hour snowfall.
Keep reading to find out individual state records in alphabetical order.