You always save with The Value Connection and hundreds of values every single day. Here are some more extra-special limited-time savings, available at our website, over the counter at our retail outlets or by calling us at 320-258-SAVE.
---
FEATURED DEALS
Prices in effect until Noon, Friday, January 22nd.
 
CHESTER'S CHICKEN IN ALBANY
$5 general certificate at Chester's Chicken at Don's I-94 Travel Center for just $3.
 
COOL TANS
$10 certificate toward tanning services and products for just $6.
 
EL-JAY PLUMBING & HEATING
$100 certificate for just $55.
$250 certificqate toward purchase and installation of tank water heater for just $150.
 
HANDYMAN'S HARDWARE
$20 general certificate for just $14.
$50 general certificate for just $32.50.
$100 general certificate for just $65.
 
JET'S PIZZA
$5 certificate for just $3.
 
LITTLE FALLS BAKERY & DELI
$10 food and bakery certificate for just $5.50.
$20 food and bakery certificate for just $11.
 
SAWATDEE
$10 certificate for just $6.
 
TRIPLE R GRILL & BAR IN KIMBALL
$20 food and beverage certificate for just $12.
---
LIMITED TIME SPECIAL
LINE-X PROTECTIVE COATINGS
Line-X is the nation's leading developer and provider of quality spray-on protective coatings. Protect the surface of your truck with an under-the-rail bedliner that will withstand weather, cargo or whatever else you need to throw in the back.
Short Box Under the Rail Line-X Spray On Bedliner -- $585.19 value for just $450.
---
LIMITED TIME SPECIAL
SCHWEGEL'S LANDSCAPING & TREE SERVICE
Schwegel's has over 12 years of experience in the landscaping and tree trimming and removal business. They provide a very professional service at a low cost. Their mission is to provide these services to you at an affordable price. They do work on patios, retaining walls, lawn and sod work, shoreline maintenance and other landscaping tasks. For your trees they can do complete removal and/or stump grinding, trimming of trees, lot clearing and more. Fully licensed and bonded.
$200 certificate for just $125.
---
NEW WAY TO SHOP THE VALUE CONNECTION!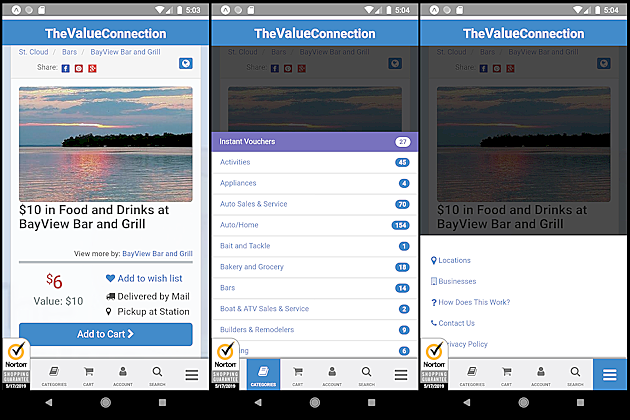 Shop easier with our NEW App! Available now for both Apple & Android phones!
---
FOLLOW THE VALUE CONNECTION ON FACEBOOK & TWITTER
Follow The Value Connection on Facebook and Twitter! Stay up-to-date on our newest items, limited time specials, on location events and more.
---
Here are several ways to order from The Value Connection:
-- Shop online at TheValueConnection.com. We'll mail certificates to you.
-- Call 320-258-SAVE (320-258-7283) to place your order. We'll mail certificates to you.
-- Buy and pick-up certificates at one of our retail outlets:
Value Connection Headquarters for Townsquare Media at 640 SE Lincoln Avenue, Monday-Friday 8-6, Saturdays 9-1.
Cash Wise Waite Park at 113 Waite Ave S in Waite Park Monday - Saturday 8:30-5. (Closed 12:30p - 1p for lunch daily)
---
Sign-up for our Value Connection Newsletter!
We'll deliver weekly specials on Monday mornings and weekend specials on Friday mid-day!
*

 Email

*

 First Name

*

 Last Name

*

 Zip

*

= Required Field
Email Marketing You Can Trust