Red Wings Blank Wild 6-0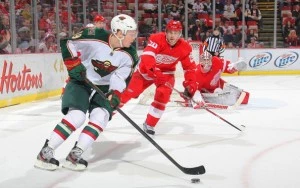 The Wild lost 6-0 at Detroit to the Red Wings Friday night.  Detroit scored twice in the first period, 2 times in the 2nd and once in the 3rd.  Josh Harding had 23 saves but 6 goals allowed and Mathew Hackett replaced and had 6 saves.
The Wild are 28-27-10 and will host Colorado Sunday night at 6:00, pregame on WJON at 5:35.