Columbus Down Wild 3-1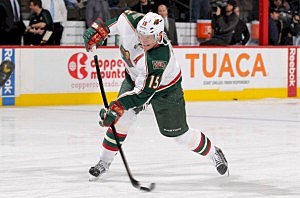 The Minnesota Wild lost 3-1 at Columbus to the Blue Jackets Tuesday night.  Nate Prosser scored the lone Minnesota goal and Niklas Backstrom had 34 saves.  The Wild were outshot 37-29.  The Wild failed to score on the power play while Columbus had 2 power play goals.
Minnesota is 25-20-8 and with 58 points are tied with Phoenix for the 8th and final playoff spot in the Western Conference.  The Wild host Vancouver Thursday night at 7pm, pregame on AM 1390-the Fan at 6:35.